A Primer on Christian Alternative Rock: Michael Knott
WHO IS HE? Well, he's the lead singer of Lifesavers Underground, for one–but also of Lifesavers, Lifesavors, the Aunt Bettys, Cush (for a time), the Strung Gurus, the Bomb Bay Babies, and Struck Last May. At one point, he was the most prolific singer/songwriter in Christian rock. Over the course of more than thirty albums, moving through genres and tones, telling the world of his alcoholism, his reliance on grace, and the increasingly strange panoply of people he met in the seedy bars and clubs of Los Angeles. There's no one like Mike Knott anywhere in the music industry, Christian or otherwise, and while his quality control was never what I'd have liked it to be, there's no doubting his talent.
I already wrote about Lifesavers Underground last year. There'll be two more Knott essays coming–one about the Lifesavers/Lifesavors, and one about his many side projects.
GENRE TAGS (OTHER THAN ALTERNATIVE ROCK): Americana, Chamber Folk, Contemporary Folk, Shoegaze
RIYL Bob Dylan, Jane's Addiction, The Violent Femmes
WHY DO I KNOW THAT NAME? You probably read my essay on Lifesavers Underground, or encountered Knott during one of his many stabs at musical success in the 1990s.
WHAT'S HIS BEST SONG? The title track of Rocket and a Bomb (1994), one of the saddest, funniest songs ever written about success and failure.
---
DISCOGRAPHY
MUST-HEAR
Rocket and a Bomb (1994). Rocket and a Bomb is a quiet album, a collection of character studies of people whom Knott knew when he lived in a dilapidated apartment building in the
nasty part of Hollywood. About half of them are story songs written about the freaks and losers who made up the population of the building; the rest are less specific but no less personal, and they could be narrated by either Knott or someone similarly down on his luck. Either way, his love for them is apparent. First-person short stories are all about the self-revelation of the narrator; maybe that's always true of Knott's work, but it's definitely true here—to understand these people is to see into Michael Knott's soul.
The story songs jump out at you first. "John Barrymore, Jr." is my favorite. I saw Knott play it live and fill in the details, but once you hear them, you realize you never needed them: Everything in the song is literal and, apparently, real. The blend of pathos and humor in that song is typical: "Kitty" is suspected of killing and eating her husband; "Jan the Weatherman" lives across the hall with an illegal sub-letter; and "Adrian" seems to be being abused by his girlfriend. Most heartbreaking of all is "Bubbles," a homeless alcoholic who is kidnapped by a rich man and dressed up like a clown for God knows what nefarious purpose.
The first-person songs are just as good. Most of them are ruminations of one sort or another on the nature of success and failure. The title track is certainly the best of them, its narrator wondering why so many people around him have reached a level of comfort that he can't. I also love "Make Me Feel Good," a litany of things that happen to a person when he succeeds and fails. The sound throughout is remarkably warm and restrained, even when things get noisy (as on "Jail" and "Serious")—it's mostly just drums, bass, clean electric guitar, and occasional electric piano and cello. Despite the sometimes-lurid subject matter, Rocket and a Bomb is Knott's most tasteful album—and his best.
NEXT STEPS
Strip Cycle (1995). One of the strangest albums ever released for the Christian market, Strip Cycle was born when Knott's daughter, Stormie, knocked over his guitar. He enjoyed the resulting "alternate tuning" so much that he recorded a whole album of twisted little folk-punk songs with it, giving us what amounts at times to outsider art, or at least avant-folk.
Thematically, the first few songs follow the lead of Rocket and a Bomb, telling stories about the darker side of Los Angeles: the violent mother of two in "Tattoo," the ferocious riot grrrl in "Transistor Sister," longtime LSU bassist Brian Doidge's relationship with a rich woman in "Sugar Mama."
As the album progresses, however, it gets more abstract and more personal. "Sometimes I wish the shiny red lights on cop cars were just big bright cherries," sings Knott on "Bad Check," before bafflingly declaring, "I wanna bowl / I wanna knock down some pins." That song shows off his wry, sad sense of humor ("Wrote a bad check to this cello player / She didn't know it at the time, 'cos I'm singing it later"), as does the brutal "Milk and Peas," a song about Stormie's perspective on her father's alcoholism and poverty. (It's still funny in that Mike Knott way.)
The second half of the record suffers a bit in comparison to the first, but it's got at least two great songs on it: the self-deprecating "Am I Winnin Something" and the closer, "Denial," one of Knott's most haunting portraits of his relationship with alcohol (and Lord knows he's written a lot of haunting portraits of his relationship with alcohol). The chorus plays it cool: "I feel free / With God and a bottle in me." But it can't last long—the song cuts off mid-chorus with an out-of-nowhere scream. If I were trying to show someone why Knott was a remarkable presence in Christian music, I think I'd start here.
Life of David (2001). The title makes Life of David sound like another of Knott's rock operas, but there's no discernable narrative thrust, and these songs are about Knott as much as or more than they are about David. It is a harrowing album—Knott's alcoholism was reaching a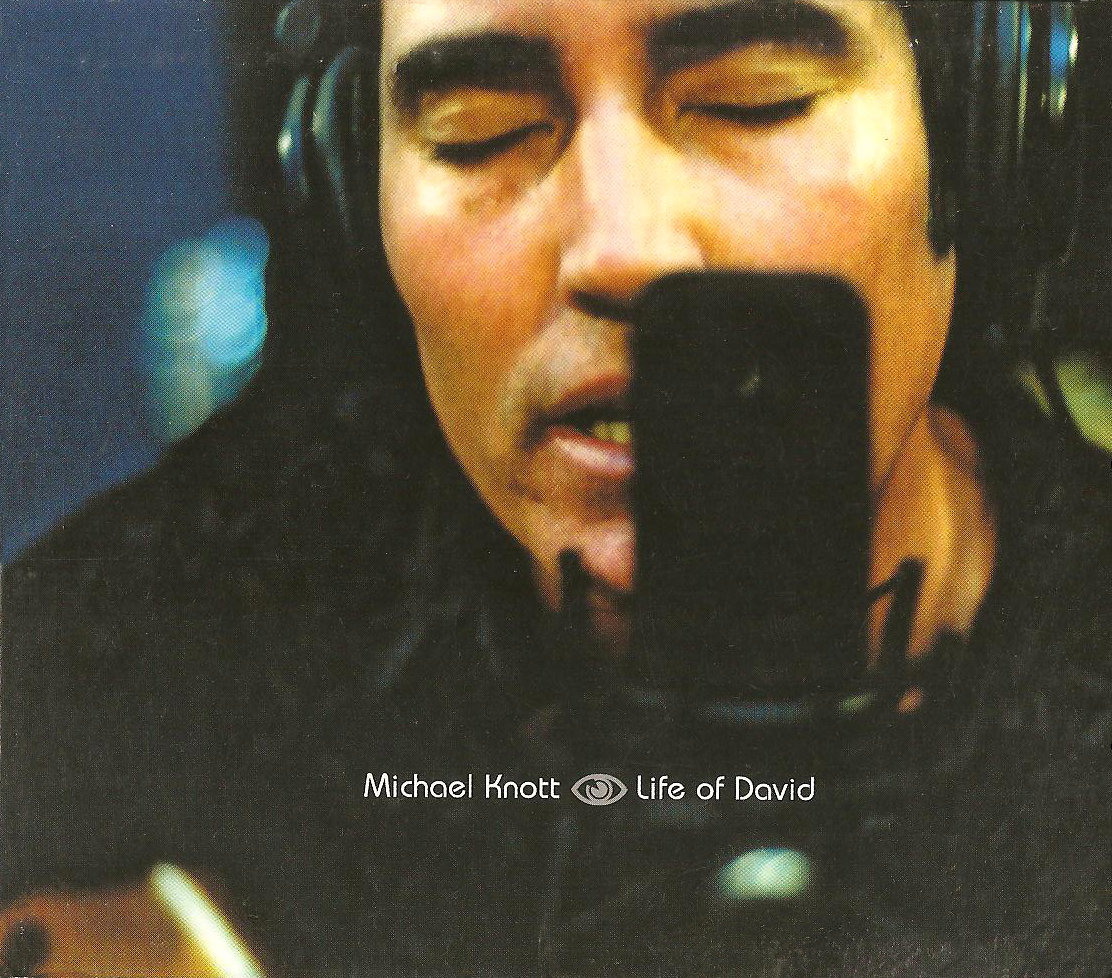 dangerous point by the early 21st century. (He went into rehab a few months after Life of David was released.) When he sings, "When I say I'm living with the devil / You know what I mean" on the first song, you know exactly what he means.
His voice sounds ravaged throughout, allowing the sound of the album to match the lyrics: This is a man somewhere close to rock bottom, dying for love and forgiveness but unable to accept any. The most hopeful song is also the best: "Halo," an expression of unconditional acceptance that, placed in the penultimate slot, allows Knott to look for the help he needs in "Hospital."
Most of the album is considerably noisier than the three tracks I've mentioned so far.  "Shoe Gazer" isn't exactly shoegaze, though it shares a certain mistiness with that genre. Knott's falsetto on its chorus returns for the magnificent fan favorite "Sorry," probably the moment where Knott's life comes closest to King David's. Knott had been building up to the brutal honesty of Life of David for most of his career; the result is a beautiful record that is hard to listen to.
Fluid (1996). Knott's second rock opera (after L.S.U.'s The Grape Prophet) was apparently wrapped and done by 1993, but when Blonde Vinyl Records shut down, he had to wait several
years to release it. It's certainly not as powerful as The Grape Prophet; as J. Edward Keyes points out, the lyrics are uncharacteristically straightforward, and the story—Jennie steals her boyfriend's car, wrecks it, and, as she dies, God and Satan fight it out for her soul—is pretty simplistic. (I do find myself wondering if this is the same woman from Rocket and a Bomb's "Adrian.")
About half the songs are really spectacular, though—"Cool" is elevated by a soaring, atmospheric guitar, "Away" is sad and yearning in the way that the best alternative rock is, and "The Sky" is a real original, a combination of soul, shoegaze, and opera (courtesy of Knott's sister Bridget). The two acoustic songs, "Somewhere" and "Tonight," are considerably less successful, though a very different and much improved version of the latter appeared on the first Aunt Bettys album as "Jesus."
The most appealing part of the album, though, are the two songs sung by Satan, "Over" and "Stars." Like Milton, Knott has discovered that it's easier to make evil interesting than good—he swaggers around, mocking Jennie and God, who won't even bother responding until the very end of the album, when Satan is humiliated and long gone. Fluid has that in common with Paradise Lost, too.
WORTH A LISTEN
Comatose Soul (2004). Released at the end of the garage-rock revival and the beginning of the post-punk revival, Comatose Soul sounds very much like an album from the previous generation of rock: Most of the songs feature the quiet-loud dynamic of grunge and the guitar walls of shoegaze. That's a description, not a criticism, but Knott was always very on-trend in the 1990s; that he's not here suggests, perhaps, a new comfort in his sound, a decision not to strive for superstardom. These are not story songs, like most of Knott's best works—they feel simultaneously more personal and less specific than that. But they are good songs: "Pop Goes the World" is a catchy, ridiculous power pop number; "Gold" is great Beatlesque fun; "The Callous Wheel," its title taken from L.S.U.'s "The Fold," is a splendid return to heavy gothic rock. I also like the two folky songs: "Boxcar" and "Lollipops and Daisies" (which is exactly as upbeat and airy as its title suggests). About the only thing that doesn't work is the atonal drone of "Pale."
Mother Nation (Michael Knott and Noah Riemer, 2001). On this record, released independently mere weeks after Life of David, Knott and Noah Riemer (of the ridiculously named band Ticklepenny Corner) team up to make nine tracks of Americana music—a genre Knott hadn't really done before. It's about as charmingly ramshackle as you can get, recorded on a tape recorder in a series of motel rooms across America. The best songs—"Down the Line," "Roadside Diner," "Unsettled Kind of Life"—feel like travelogues, and the album's ambient noise and banter reinforce its ultra lo-fi origins.
Hearts of Care (2002). As the first song, "Detox Radio Station," makes clear, Hearts of Care is Knott's rehab record. And it's what I've come to expect from rehab records—it's gentle, warm, and hopeful. It's probably also the happiest record in Knott's solo catalogue. It's hard to imagine songs like "Bus Stop" or "Wasting Time" showing up on Strip Cycle or Rocket and a Bomb, let alone The Grape Prophet or This Is the Healing. Musically, Hearts of Care follows in the Americana pathway dug out by Mother Nation (and in fact, Noah Riemer appears throughout and co-wrote two of the songs): simple songs played on acoustic guitars. They've added violins but not drums, which makes the album even mellower than it would have been. (The only song that could have been improved by a full band is "She Steals This Heart.") This is by no means Knott's best work, but it's wonderful to hear Knott relatively happy and on the mend.
Screaming Brittle Siren (1992). Knott's first solo album is an outlier, in that it doesn't sound much different from what he was doing with L.S.U. around the same time: heavy grunge guitars supporting somewhat elliptical lyrics about the darker side of the Christian life. What sets Screaming Brittle Siren apart from The Grape Prophet or Cash and Chaos is its occasional string section, arranged by Knott himself, which gives songs like "Miles from Shame" and "Brittle Body" a richer tone. Credit also needs to go to the ridiculously tight rhythm section: bassist Bob Wohler (of Uthanda) and drummer Chuck Cummings (later of Knott's Aunt Bettys). Knott handles most of the guitar work (which is great) himself, but he's got help from Chris Colbert and Dave Koval (Breakfast with Amy) on a few tracks, most interestingly on the funk-rock/shoegaze hybrid "Shine a Light." But the best thing here is certainly "I Am No Christ," a song in the same vein as Lyle Lovett's "God Will," but played for tragedy instead of comedy.
THE DISCOUNT BIN
Songs from the Feather River Highway (EP, 2016). Knott has been largely silent since the early years of this century—L.S.U. released P.T.S.D. in 2010; Lifesavers put out Heaven High four years later; and then last year, Songs from the Feather River Highway appeared. Unfortunately, the intervening years haven't been kind to Knott's songwriting; all four of these songs are frustratingly underwritten. (The fifth track is a piano instrumental that is nice enough but doesn't really go anywhere.) As on P.T.S.D., Knott's voice sounds tired and shot. That almost works for him on "Pictures in Cinders," but the rest of these songs fail to take off entirely.
FOR FANS ONLY

The All Indie E.P. (2006). I'm not really sure what the title means—would we have assumed that some of the songs came out on a major label? Regardless, this EP is a mess. It alternates between slurred folk songs and vapid pop/rock. Like Strip Cycle, it borders on outsider art; unlike Strip Cycle, it borders on the unlistenable. The nadir is the second track, "Beautiful Square," which would be terrible even if it didn't sound like Knott was making it all up as he went along. Only two tracks are worth hearing: "The Hugging Song" (what an awful name) and the loping "All You Can Do." The EP ends with "All the Bottles," a spiritual successor to Strip Cycle's "Denial" that can't get past Knott's delivery.
---
GREATEST HITS, ETC.
In 1998, KMG released a greatest hits package for L.S.U. and Knott's solo material, laughingly called The Definitive Collection. A review at the time, I remember, said, "When the artist in question has more albums than songs on the CD, maybe definitive isn't the right word."
---
LIVE ALBUMS
Well, there are a few of them. I like Live in Nash Vegas a lot–it features warm, solo acoustic versions of songs from L.S.U. and the solo records; Live at Cornerstone 2000 is more of the same (not that that's a bad thing). For Rocket and a Bomb's 20th anniversary a few years ago, Knott played the album through live with a full band; I have not heard the result.
---
SIDE PROJECTS
Ha.
---
Other essays in this series:
Adam Again
Marc Byrd and Christine Glass
The Choir
Happy Christmas, Vol. 1
Mark Heard
L.S.U.
Poor Old Lu
Starflyer 59
The Swirling Eddies
Undercover
Vigilantes of Love
The Violet Burning