A Primer on Christian Alternative Rock: Vigilantes of Love
 
WHO ARE THEY? Like The Violet Burning, they are essentially one person: in this case, singer/songwriter/rhythm guitarist Bill Mallonee (MAL-uh-nee, not muh-LOH-nee), joined by a rotating cast of instrumentalists. Mallonee has an interesting history as a musician, bordering on legendary: he didn't pick up a guitar or write a song until he was thirty, at which point he began to write hundreds per year. Vigilantes of Love (named after a New Order song, of all things) was the outlet for his songwriting for more than ten years, at which point he began prodigiously releasing solo albums. I'll write about the Vigilantes of Love records here, returning for another post to discuss Mallonee's many solo records (and perhaps a third covering his "Works in Progress Administration" EPs of rough cuts and demos).
GENRE TAGS (OTHER THAN ALTERNATIVE ROCK): Alternative Country, Americana, Blues-Rock, Contemporary Folk, Folk-Rock, Roots Rock
RIYL The Jayhawks, R.E.M., Son Volt, Bruce Springsteen
WHY DO I KNOW THAT NAME? Paste magazine named Mallonee one of the greatest living songwriters a few years ago. Fellow Southerner Edwin McCain covered two V.O.L. songs. Or maybe you heard the Christian Humanist Podcast episode on Blister Soul.
WHAT'S THEIR BEST SONG? "Resplendent," from Audible Sigh (1999), a harrowing portrait of a Dust Bowl farmer who lost it all.
---
DISCOGRAPHY
MUST-HEAR
Blister Soul (1995). Blister Soul is really kind of a ramshackle album, recorded at a time when the Vigilantes of Love scarcely even existed. The band that played on the previous record,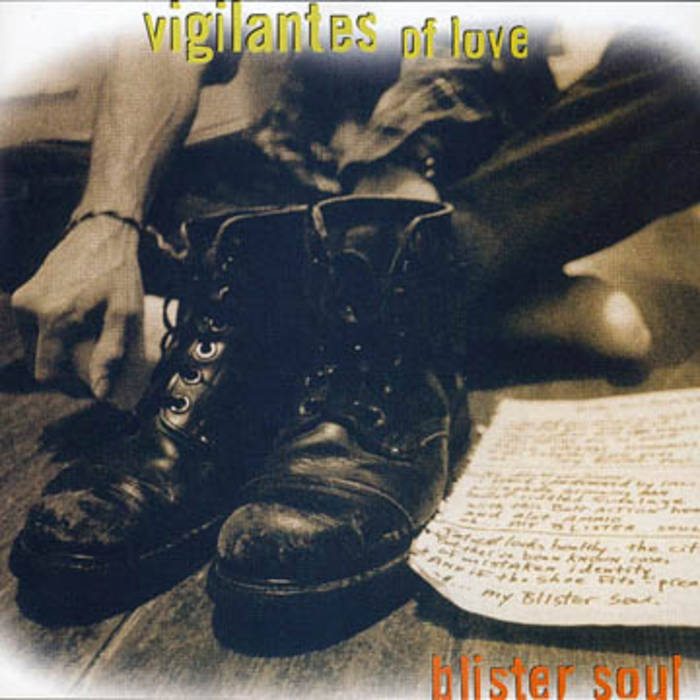 Welcome to Struggleville, had quit (though guitarist Newton Carter appears on a couple of tracks), and no one had been recruited to take their place permanently yet. The album is mostly Mallonee and session musician Chris Donohue, playing basically everything but drums. But the album feels expansive, not claustrophobic—it's big, glossy, and beautiful, start to end.
One thing it has that Struggleville lacked is acoustic ballads. The most famous of these is "Skin," which tells the story of Vincent Van Gogh from his brother Theo's perspective. That's a great song, one of Mallonee's best, but I think I like "Parting Shot" even better. It's a spiraling cascade of words that swirls around a chorus without ever really offering one, and it's as moving as anything I've ever heard. "Certain Slant of Light," meanwhile, quotes Emily Dickinson in service of a remarkable rumination on depression.
The rockier numbers are just as great. Several of them ventriloquize very unpleasant people indeed: The narrator of "5 Miles Outside of Monroe" is a racist sheriff trying to force a black man into a confession; and the stuttering blues-rock number "Bolt Action" comes to us courtesy of Charles Whitman, America's first spree killer. "Unsuccessful," with its screeching fiddle, is the sound of a person's mental health slamming into the wall. But the best of the upbeat songs is "Baalam's Ass," an apocalyptic roots rocker with a counting motif in the chorus.
Audible Sigh (1999-2000). The remarkable documentary I Am Trying to Break Your Heart tells the circuitous story of Wilco's Yankee Hotel Foxtrot, its difficult recording, and its troubled relationship with two record labels. I wish someone would have followed V.O.L. around in early
1999 when they were recording Audible Sigh; the result might have been even more interesting. There are no fewer than three releases of the album—one "pre-release" with Pioneer Records, which went out of business before they could release it; a stopgap release with True Tunes, featuring three new songs; and a final release with Compass Records, including the EP Room Despair, reviewed separately below. I, and most of the V.O.L. fans I know, bought all three versions.
The album was, I believe, recorded rather quickly, with Buddy Miller, famed guitarist for Emmylou Harris and Lucinda Williams. (That's him singing backing vocals on Williams's "Car Wheels on a Gravel Road.") The band didn't have a drummer at a time, so they borrowed session musician Brady Blade, who really does some fabulous work here. The original thirteen songs (nine of which appeared on the True Tunes and Compass releases) sound amazing: Mallonee's vocals are in top form, Kenny Hutson (probably the best musician Mallonee's ever played with) fills in the space amazingly, and nearly every song has an underlying B-3 organ from the great Phil Madeira. Miller managed to bring in Emmylou Harris to sing on "Resplendent" and "Your Part of the Story," and his wife Julie Miller sings on "Starry Eyed" and "Nothing Like a Train."
I'm especially impressed with Hutson's work on the pedal steel. Listen again to "Resplendent"—what Hutson's doing there has very little to do with country music; he's almost a visitor from outer space. And on "Any Side of Anywhere," the pedal steel becomes an eighteen-wheeler barreling the band down the highway. There and on the other uptempo songs (I'm thinking particularly of "Goes Without Saying" and "She Walks on Roses") V.O.L. sounds like they're barely hanging on, like if they don't make this record at this moment, they're going to collapse. As it turns out, that was truer than we might have suspected at the time; Hutson left before the True Tunes release, and there was only one more full-length forthcoming. But what amazing work came from their frustration.
NEXT STEPS
Killing Floor (1992). Produced by Mark Heard and R.E.M.'s Peter Buck, Killing Floor is Bill Mallonee's breakthrough as a songwriter. He has described "Undertow" as the first song that did exactly what he wanted it to do, but the truth is that almost every song here is great. (The one
exception is "Hip Train," one of his many attacks on the aggressive coolness of Athens, Georgia; it never quite takes off.) And they're remarkably varied in their greatness. "Undertow" and "Motel Room" are of a piece with his earlier, raw work, and they maintain their violent imagery without coming off as sensationalist.
"Deep End" and "Keep Out the Chill," on the other hand, stem from Mallonee's years working in a mental institution. They are sung from the perspective of patients, and they feel suitably desperate, both of them in constant danger of going off the rails. "Sick of It All" is another character study, this time of a middle-class man in serious jeopardy of succumbing to his despair. And maybe most significantly, Killing Floor offers Mallonee's first history songs, a hallmark of his 1990s work: "Port of Entry" deals with a turn-of-the-century immigrant who works himself almost to death to no avail; "Eleanor" is a remarkably sensitive portrait of Eleanor Roosevelt's dealing with FDR's infidelities; and "Andersonville" brutally tells the story of the Confederate prison of the same name.
The album sounds great. At this point, the band is mostly just Mallonee (vocals, acoustic guitar, drums) and multi-instrumentalist Billy Holmes (mandolin, bass, organ, piano, electric guitar, trumpet, sitar), with occasional help. The arrangements are not complex, but almost every song has a nice little detail or two—my favorite is the truly psychotic ukulele solo in "Keep Out the Chill." It must be said that Mallonee's vocals would improve a lot in the years to come; here, he does a lot of half-shouting where a more nuanced vocal might have been more effective. But Killing Floor is the first truly great V.O.L. album, and it sounds like nothing else I've ever heard.
Welcome to Struggleville (1994). Mallonee's first album for Capricorn Records is V.O.L.'s noisiest—noisiest not in the buzzy, grungy way typical of 1994 but in a species of roots rock.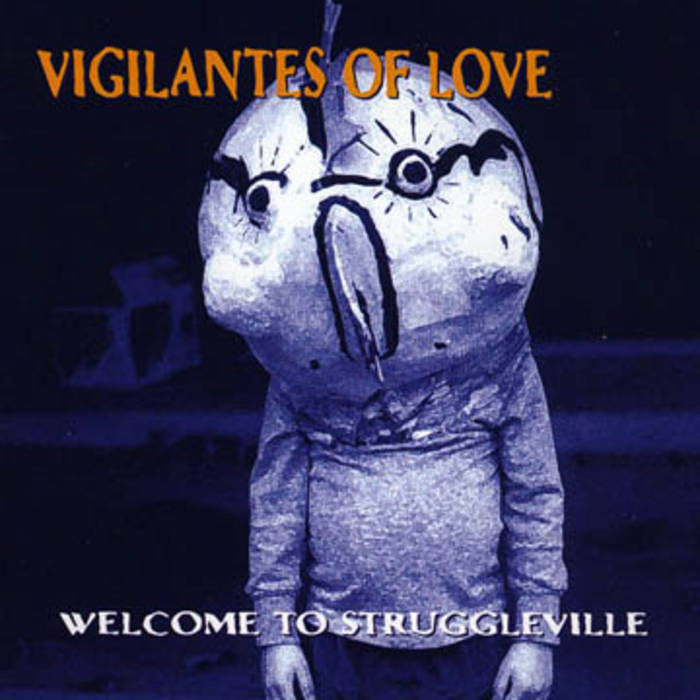 Much of this new sound comes courtesy of lead guitarist Newton Carter, probably the best musician ever associated with the Vigilantes, other than Kenny Stetson. Mallonee has complained that he felt drowned out by the live band (Carter, plus bassist David LaBruyère and drummer Travis McNabb—later famous for their work with John Mayer and Better Than Ezra, respectively), but they sure sound great on record.
The stone-cold classic here is the closer, "Glory and the Dream," a rumination on artistic and commercial success that may be the song that best sums up Mallonee's career. Its imagery comes from the outsider paintings of Reverend Howard Finster (best known for his album covers for R.E.M., Talking Heads, and—hey!—Adam Again), but it's clearly himself he's singing about: "The distance grows wide between the glory and the dream." The opening title track is a fan favorite, moody jangle-pop based on another painting, this time Edward Knippers' The Prize.
Those two songs are not terribly typical of the rest of the album, which is blueser and louder than anything else V.O.L. did. Songs like "Resumé," "I Can Explain Everything," and "Cold Ground" would never have fit in on Killing Floor, and it's great to hear Mallonee stretching his sound. My favorite is the jaunty apocalypse of "Aftermath," which demonstrates Mallonee's preferred vocal technique on Struggleville: jamming as many words as possible into a given line. That technique works largely because the rest of the band allows it to work—the kind of roots rock they're playing here demands a new sound from Mallonee, and he rises to the occasion.
Electromeo (2000). Bill Mallonee claimed in the 1990s that he wrote more than a hundred songs per year; obviously, only a small fraction of these ever saw the light of day. The stretch between Audible Sigh and Summershine was quite long, and it was filled in with stopgap releases—the three songs added to the True Tunes version of Audible Sigh, and then two great EPs. Electromeo was the second. It consists of four great songs that exist, aurally and chronically, between Audible Sigh and Summershine, probably leaning more toward the former than the latter. The best of the lot is "Hat in Hand," but the other three songs are top-quality.
Room Despair (Recent Sketches) (EP, 2000). This unfortunately titled EP was included as a bonus disc in the Compass Records release of Audible Sigh, and it features one outtake (the tremendous "I'm Not There") from that record, as well as four songs recorded as a three-piece. The poppy "It's Not Bothering Me" (an inferior version of which appeared on Summershine the next year) is clearly a response to Kenny Hutson's leaving the band. The songs are uniformly great, but the best is certainly the waltz-time closer, "Going South," one of Mallonee's sweetest, and saddest songs. This EP told everyone who heard it that Mallonee could keep going without Hutson, which I remember was an open question at the time.
To the Roof of the Sky . . .  (1998). After V.O.L. was dropped from Capricorn Records, they retreated to Athens and made this record on Bill Mallonee's credit card. Along the way, they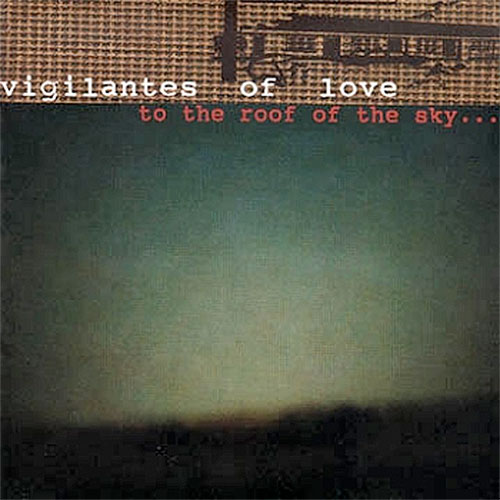 picked up Kenny Hutson, whose lead guitar, mandolin, and pedal steel really take the songs here to the next level. The range is pretty remarkable—everything from the Crazy Horse-esque rock of "(Please) Leave Me the Bones" to the gentle, Mellotron-aided ballad "This Time Isn't One of Them."
At times, To the Roof of the Sky feels like a warm-up to Audible Sigh, and not just because two songs from it appeared in rerecorded form on the various versions of that record. This is the point where Mallonee turns the life of a (rather unsuccessful, at least commercially) touring musician into a universal metaphor for failure. The songs thus manage to be hyper-specific ("When the mic smells like beer / The future's so unclear," he sings on the raucous "Filigree," whereas he wonders, "Hasn't everyone in these bars been crying inside their whole lives through?" on "Opposite's True") and universal. Audible Sigh would take that technique up to eleven, but it's present, and quite effective, here.
To the Roof of the Sky is a long record, and I can't say that maybe it wouldn't have been improved if a few songs were taken off of it. But then I also don't have a ready answer for which songs I would remove—pretty much everything is great, and it's all different enough sonically that the album would feel strange with one piece or another removed. When the record first came out, I disliked "Isadora Duncan"—but that was my own immaturity. Twenty years later, I recognize that that song is key to what's happening on this album: Like the closer, "Farther Up the Road," and like the last verse of "This Time," "Isadora" is a picture of the people who stand by you even when you fail at everything.

WORTH A LISTEN
Cross the Big Pond (EP, 1999). Recorded quickly in England with the Audible Sigh band minus Brady Blade (Mallonee plays drums himself), 'Cross the Big Pond is the most charming entry in the V.O.L. catalogue. Two songs from Audible Sigh—"Cloth of Life" and "She Walks on Roses"—appear here in different form. Those aren't as good as the other versions, and most of the other songs are inessential if still pretty good. The best tracks are "Go and Ask Her" and "On to Bethlehem," maybe my favorite modern Christmas song ever. The arrangements are mostly acoustic, with Kenny Hutson's mandolin often taking the lead lines.
Slow Dark Train (1997). Slow Dark Train is a summer album—but not the bright, breezy summer of the Beach Boys or the Byrds, and not even the creaking summer evenings of early Tom Petty. This is the sweltering summer of Atlanta, that Southern megapolis, where the sun is hot enough to melt the asphalt. Winnowed down to a three-piece, the band offers three of their heaviest tracks ever, right off the bat: "Locust Years," "Tokyo Rose," and "Black Crow." From there, they alternate between buzzy alt-rock and jangly folk ("Only a Scratch," "Version of the Truth"), mostly to good effect, although the back half of the album drags quite a bit. All is forgiven with the closer, "Judas Skin," one of Mallonee's bleakest ballads, which was written in the midst of a Grand Rapids blizzard but recorded as a massive Georgian thunderstorm rolled in.
Summershine (2001). For their final record, V.O.L. swerved away from alternative country and Americana altogether. Mallonee, I believe, refers to the sound of Summershine as "Britpop," and I hear what he's getting at, but I'd rather call it jangle pop or power pop. Either way, there are big, shiny guitars playing arpeggios and vaguely psychedelic lead lines—and all of them, the liner notes report proudly, are played by Mallonee himself. The best tracks here—"She Is Fading," "Putting Out Fires with Gasoline," "Green Summer Lawn"—rank among the best of Mallonee's career. Unfortunately, a few songs betray the sort of sentimentality that would weigh down portions of Mallonee's solo career: "Along for the Ride" is probably the worst song of V.O.L.'s mature career, and I can't recommend "Galaxy" despite its appealing arrangement. Mallonee would mine this sound to greater effect on Fetal Position, his first solo album.
THE DISCOUNT BIN
Jugular (1990). The major virtues of V.O.L.'s first record, as its title suggests, are primal and violent. Its sound is defined by Mallonee's mad strumming, accentuated here and there by Mark Hall's accordion and the blues harmonica of (UGA English professor) Dr. Jonathan "Johnny Dog-Mess" Evans. Mallonee hasn't yet arrived as a songwriter, so while there are some great songs here ("Weak One Now," "Watching the Moonlight," "Drunk on the Tears") nearly every song has a groaner of a lyric in it somewhere. (The one that sticks with me is from "As Big as Christ": "I don't know why I feel such great dissatisfaction / Maybe I don't stand in the place where I work and take affirmative action." Hello, 1990!) The exception is "America, America," a song about science, patriotism, alcoholism, and Mallonee's father—every word in it is perfect.
FOR FANS ONLY

Driving the Nails (1991). Mallonee works with a full band for the first time, to mixed effect. The drums—by "B.B. Queen," whom I've always suspected to be Mallonee himself—allow him to increase the urgency of some of the faster songs, but Billy Holmes's lead guitar is largely corny and dated. (Holmes did much better work a year later on Killing Floor.) The songs are a mixed bag, even more so than those on Jugular—"Casualty," "Sanctuary," and "Brenda" are all quite good raw folk rock, but "One Foot in the Grave" and "It's Alright Doctor" are probably the worst songs Mallonee has ever written. In the middle are two controversial songs, "Odious" (sung from the perspective of an abortion-clinic bomber) and "Lady Luck" (whose infamous chorus runs, "I'm as selfish as a schoolboy enamored with his prick"). The former holds up pretty well and demonstrates the disturbing power of Mallonee's early work; the latter, on the other hand, feels like mere sensationalism 26 years later. Parts of the title track do, too: "I don't wanna spit this one out," Mallonee sings in the first verse, "and have you rape me later on." Later he says, "I'm ready for penetration, honey / But it's not what you think." He'd work with imagery like this much better on the next few V.O.L. albums; for now, they risk ruining an otherwise very moving song.
---
GREATEST HITS, ETC.
1996's V.O.L. was an attempt to introduce the band to the Christian market. In fact, I first heard them via "Double Cure" on the Power Source, a Friday-night Christian rock radio show in Atlanta. There are several other new songs and outtakes on this collection, including "When I'm Broken (See What Happens)," one of the best V.O.L. songs, and "And You Drown," once of the worst.
---
LIVE ALBUMS
Mallonee has put out a lot of live albums, and a lot more are available as bootlegs. The best of them come from the Kenny Hutson era of the band: 1998's Live at the 40 Watt and 2000's Audibly Live. The band was never tighter or more energetic than during this period, and I'm glad we've got proof.
---
SIDE PROJECTS
Many of the musicians who backed Mallonee up have other projects, but Mallonee's work is limited to Vigilantes of Love and his solo albums.
---
Other essays in this series:
Adam Again
Marc Byrd and Christine Glass
The Choir
Happy Christmas, Vol. 1
Mark Heard
L.S.U.
Poor Old Lu
Starflyer 59
The Swirling Eddies
Undercover
The Violet Burning