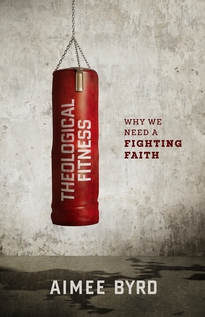 Theological Fitness: Why We Need a Fighting Faith is a call by blogger and podcaster Aimee Byrd for all Christians to be theologians. Here is a link to the book trailer at YouTube.  (So… many… nunchucks…)  Aimee is the author of Housewife Theologian (P&R Publishing, 2013), and of the blog of the same name (Housewife Theologian), as well as cohost of the Mortification of Spin podcast. It was Aimee's blogging that initially drew my attention, as I have been a student of the martial arts for over twenty years, and have an interest in Christian perspectives on the subject. Examples of her thoughts on MMA (mixed martial arts competitions) can be found here and here. I hope to see more posts from Aimee in the future on the martial arts and the professional fighting scene.
The blog and podcast are both produced by the Alliance of Confessing Evangelicals, and feature discussions on topics of concern for evangelical Christians, both supporting evangelicalism and criticizing the errors and silliness evangelicals can be prone to. Aimee, and her podcast-colleagues, come at these issues from a Presbyterian perspective, and it shows. This is carried over into the book, although it is certainly possible for those of us who are insufficiently-Reformed to appreciate the virtues of Theological Fitness with only slight eye-twitches over all that covenant theology.
In Theological Fitness, Aimee draws from her personal history as a member of a fitness-oriented family (She is the daughter of a martial arts teacher and an aerobics instructor/gym owner, the sister of an MMA instructor, and mentioned her son attending an "MMA camp" in a recent blog post), and she draws connections between spiritual growth and athletic training. This is, of course, an easy connection to make, given scriptural precedent (1st Corinthians 9:24-27), and Aimee makes the most of it, countering any misconceptions one might have that the Christian life is anything other than an active struggle. Theological Fitness is structured around an extended examination of Hebrews 10:23 ("Let us hold fast the confession of our hope without wavering, for he who promised is faithful."), and emphasizes perseverance in our spiritual "training," which produces virtue and strength.
The parallels with athletic training throughout the book are effective, including the necessity of striving together as a team, the importance of mastering the fundamentals, and the necessity of suffering. Each chapter ends with a set of questions for consideration and reflection. I would recommend this book primarily for small groups, as the chapter questions have the potential to get some good discussion going, and also for young people and those who want to get started figuring out "what we believe and why we believe it." Theological Fitness is written at a level that is well-suited to those of us who are not professional theologians, but would like to begin thinking clearly and seriously about God. Biblical passages and theological concepts are interspersed with personal stories and practical examples, Aimee's writing style is enjoyable, and her personal stories are easy to relate to. This book is an exhortation and encouragement for readers to reject the life of the theological couch potato, and to start building some spiritual muscles.