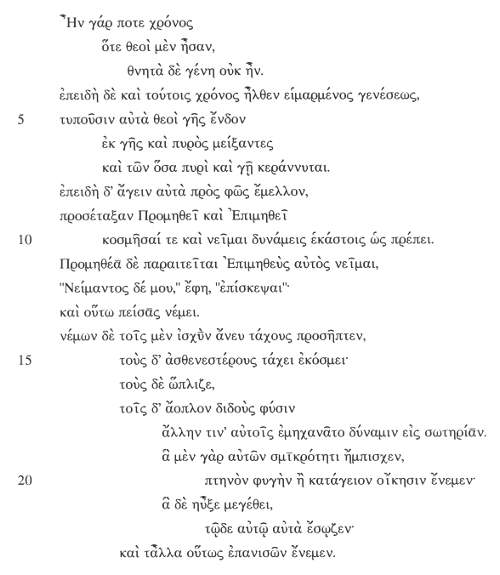 As with most things I've taught, I had no business teaching Greek philosophy when first I gave it a run.  Sure, I had been a double-major in English and humanities as an undergrad, and the humanities major consisted mainly in philosophy and theology classes.  But as I wrap up my sixth attempt to teach Plato's Republic, I've still never actually taken a graduate course labeled "Philosophy," and all of the Greek I've taken has been Koine Greek.  Yet I know, as I remember the events that led me to be Emmanuel College's Plato guy, that I'm doing the most satisfying work that I have no business doing precisely because two schools have had the courage to let me have a run at it.
The whole thing started in the first semester of my Ph.D coursework at the University of Georgia, the fall of 2005.  Sitting in my grad-student office, grading some essays from the department-standard first-semester composition course, I overheard two fellow grad students chatting in the office-block hall.  Though I don't have a strong enough memory to reproduce their words exactly, I remember the upshot: their frustrations with some of what they were teaching is that students came to them without much along the lines of familiarity with the ideas to which modern philosophy and theory are responding.  To put it another way (since I'm already paraphrasing), students could recite critiques of old ideas, but they had no frame of reference to make sense of those critiques.  I do remember one of them saying that sometimes he wishes he could just get twenty of them in a room and teach them Plato's Republic.
That's when the course first occurred to me.  I was already slated, that spring, to teach a special-topics composition/literature class called "Hebrew Bible and/as Literature."  Why not design a special-topics comp course on Plato's Republic?  The worst the department could do is turn me down.  So I stopped at Borders after work that afternoon and picked up the cheapest edition of Republic I could put my hands on, namely Robin Waterfield's translation for Oxford World's Classics.  I've now led over a hundred fifty students through that translation, but I get ahead of myself.
I wrote up a mock-syllabus for the fall of 2006, laid out the whole of Republic across those weeks, came up with some essay prompts, and turned it all in.  The trick, of course, was that the department didn't make decisions on fall proposals until the spring, so I waited, took my own graduate courses, and taught the first iteration of the Hebrew Bible and/as Literature class in the spring of 2006.  (It was a syllabus error in that semester that led to the first ever Job Movie Project as well, but that's another story for another day.)  In the spring of 2006 I got word: I was teaching Plato.
The problem, of course, was that I had not actually read Plato's Republic in full yet.  I had read the Allegory of the Cave as a freshman and some more substantial sections in an ancient Greco-Roman philosophy course as a junior, and after I had bought the book I had read the first few sections, but beyond those things, I was coming to the book as a rookie.  I took the summer to give it a good read and showed up in August 2006 ready to rock and roll.  Never letting on that I was having my first go at the book, I taught it as a guide to complex thought, showing students the processes of engaging the commonly-accepted idea, negating the idea by showing its lack of internal logic, and proposing a new idea.  Then, with that idea in place, the negation process started again.  I faced for the first time the complaint that Plato "talks in circles," and on about the third time through the book I had developed a standard set-piece response to that complaint: Plato's project is to clear away what can't be true in the hope that what comes next might be true.  Sometimes that takes a few tries.
Jumping forward a couple years, I came to realize that, without knowing it, I had been teaching the philosophical basis for the practice of revision.  We had been doing the two side-by-side for a few years, seeing Socrates revise political thought and then revising each other's thought, but around 2008, the last time I taught the book at the University of Georgia, I came to realize that I could actually use the book as something other than a grand writing prompt, that we could examine the dialectical process precisely as part of the practice of writing.
And then Plato departed for a year.
I was thrilled to get the job at Emmanuel College, and I knew that I would be teaching mainly composition coming in.  I dutifully placed my worn copy of Republic on a bookshelf in my new office and settled in to teaching freshman composition from The Allyn and Bacon Guide to Writing for those first two semesters.  I was, for that first year, commuting once or twice a week back to Athens to take composition courses, so I had enough new ideas bouncing about in my mind to keep me busy intellectually, but there was a certain sadness to knowing that my career teaching Plato had come to an end.  It had become "my" book in a way, the centerpiece of the composition course that I had designed, and going to a departmental textbook, while something I took on gladly as a new Assistant Professor, was the end of a chapter of my teaching career, and I knew it.
So when the Emmanuel College Honors Program ramped up, and when Barbara Goodwin, one of its co-chairs, asked me to take on the honors composition sequence, it was nothing less than a gift from the gods.  (That was a little Athenian humor, folks.  Lighten up.)  She told me that the committee thought I was best equipped, with my recent graduate coursework in rhetoric, to design the course of writing instruction for the new cohort, and Plato just about flew off the shelf as I started cooking up a new composition course rooted in Plato's Republic.  The Emmanuel College version isn't by any means just a reheated UGA course: the training in rhetoric that Emmanuel paid for has given shape to the writing part of the writing course that my old classes never had, and teaching the book at a Christian college, we take on several sections of the New Testament that resonate and conflict with Plato in interesting ways.  As I've increased my familiarity with the book, it strikes me more and more each semester as a fitting and helpful companion to teaching rhetoric, and as long as EC lets me, I'm going to keep guiding students out of the cave so that they can go back in as different people.
Perhaps as a symbolic gesture of sorts, I requested a new desk copy of Republic from Oxford University Press and gave my old UGA copy to Sven Legg-Grady, on the condition that he pass the book on when he finishes.  And since that invitation dropped in my lap, I've taught Republic three more times, as many as I taught over at UGA, and the book never stops challenging me to ask better questions, to sharpen up those things that I simply assume about the good life together and the nature of human morality.  My students still think that the wife-sharing and the reincarnation are weird, and they're right, but when my students run up against Machiavelli and Locke and Marx and Derrida, they actually know that those latter-day giants of philosophy are not contending against a straw man, a generic representative of "the Greek worldview," but against a world-class, agenda-setting figure, someone who deserves to be one of the classics.
In the ensuing years, I've taught other Platonic dialogues, and I've enjoyed all of them.  I now set up Republic with the Apology and the Crito for biographical context and with the Euthyphro to introduce dialectic method.  I teach the Phaedrus and the Gorgias when I do advanced rhetoric for English majors and minors.  And this semester, I'm teaching Symposium for the first time in a Western Authors course.  But what I said in the title of this post still holds: when I think about the most rewarding teaching experiences I've had in this first leg of my professorial marathon, many of them still have to do with my signature teaching piece, Plato's Republic.